Welcome Fellow Voyager!
The 27th Annual
AVA International Rally
Hurley, Wisconsin June 20-23, 2016! Register Now!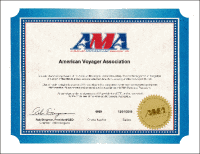 To the American Voyager Association (AVA,) a "Voyager" is anyone who loves to ride and travel on a motorcycle! We welcome you and look forward to sharing loads of Fun & Friendship with you in the years to come! Come and join our truly international organization. The AVA's membership extends throughout the United States, Canada, Australia, Belgium, Finland, Germany, England, New Zealand, Norway, and others. When you become a member of the AVA you will receive a membership card, logo pin, patch, and decal. The membership packet is soon followed by our bi-monthly magazine, the Voyager's Voice, that is chock full of information about Voyagers, the AVA, and Affiliated Chapter activities. You also will receive the annual International Roster of Members that lists a "helping hands" section dedicated to the assistance of fellow "Voyager" travellers.
The AVA network of riders will become your link to good times, knowledge, and camaraderie! Take a moment now to review the Membership benefits (click here) along with further information, then, click on the link to the membership application form and join up with the American Voyager Association!
The AVA is a member of the American Motorcyclist Assoction (AMA). To view the AMA Certificate, Click Here
Help support the International Voyager Association that supports you! AVA dues are now only $20/year! Join Today! Also please support our sponsors below who have done much to support the AVA!