A Brief History of the Kawasaki Voyager Line of Motorcycles

Kawasaki introduced the 120hp inline-six cylinder Z1300 in 1979. Kawasaki built all Z1300s in the US and produced them in several versions: Z1300, KZ1300, ZG1300 and ZN1300-Voyager. In 1980 they gave the Z1300 a fairing, trunk, and saddle bags and called it the KZ1300 Touring. This was the forerunner of the Voyager 1300. The fairing was huge! Almost 4' wide!
In 1983 Kawasaki gave the KZ1300-Touring a new frame and new plastic and introduced it as the Kawasaki Voyager 1300 (ZN1300.) It was fitted with so many accessories and luxuries (for the time) that some referred to it as "a car without doors." But by the mid '80s sales of all Z1300s began to wane and production ceased in 1989. It was reported that you could find "new" Voyager 1300s on showroom floors as recent as 1993. Kawasaki built about 4,500 Voyager 1300s. Click Here to read a review by Cycle Magazine of the first 1983 Voyager 1300.
An interesting side note on the KZ1300 6-cylinder Engine:
In 1982, Swiss specialty car manufacturer Franco Sbarro constructed a mid-engine sports car with hatchback bodywork called the Sbarro Super Twelve. This featured an inline twelve-cylinder engine (a nominal straight-12, transverse mounted) which consisted of two "joined" Z1300 engines. The two engines were not a unit as such: they were connected only by V-belts. Each engine kept its own gearbox and drove its own rear wheel. The performance of this 800kg (1,764 lbs) car with 240bhp was described as "ferocious" with 0-62mph (100kph) times of 5.0 seconds. Only one was ever built. See it here:
Kawasaki introduced the Voyager XII (ZG1200) in 1986 as a replacement for the 1300. The XII was lighter, less expensive, more frugal with gas, better balanced, and handled better than the 1300. It was reportedly "better equipped" than the 1300 though that may be subjective as the 1300 had a digital dash and fuel injection. The 1196 CC engine produces either 89 or 98 BPH depending on which motorcycle review website/magazine you read, though most say 98. (But they could just be copying each other since Kawasaki does not publish HP ratings for their motorcycles!)
The first 2 years the XII's were made in Japan and in 1988 the production was moved to Lincoln, Nebraska. The Voyager XII endured for 17 model years, 1986-2003. The biggest changes came in 1987 when Kawasaki added Cruise Control, rear speakers for the radio/cassette, wind deflectors ("winglets") on the front fairing, and trunk rack. Kawasaki also put larger diameter fork tubes on the '87.
One important change you need to be aware of if you own or acquire an '86 or early '87 model is that Kawasaki changed the igniter in early '87. The original igniter has a number ending in "1179." The replacement has a number ending in "1248." The issue with the original igniter is that it has a tendency to cause the starter chain to break when trying to start the engine with a battery at a low charge level. This is a remove and split the engine repair, very expensive to have done at a shop.
The rest of the changes throughout production are fairly minor, a seat change in 1994, a couple of clutch spring changes, and other minor stuff. Otherwise a 2003 XII is the same animal as the 1987. Model years are differentiated, to an extent, only by color changes. Abbikeboard.com has a nice layout showing the different colors by year.
Here's what Cycle Magazine had to say in 1986:
"At $8700, the Voyager [XII] is $1100 less expensive than the next priciest tourer, Yamaha's Venture; $2800 less than Honda's GL1500; and a whopping $4300 less than Harley-Davidson's FLHTC Ultra Classic..."
"Kawasaki's Voyager is also the quickest in its class. The liquid-cooled, 16-valve, five-speed inline-four provides acceleration both from 0 to 60 mph and through the quarter-mile that whips every other big-rig tourer. It complements that impressive speed with an almost ethereal smoothness (courtesy of twin gear-driven counterbalancers), a broad powerband, tack-sharp carburetion and instantaneous throttle response..."
"Once a rider reaches the bright lights of the big city, he'll be thankful he's not paying for some things most other tourers have aplenty; namely, weight and clumsy low-speed handling. The low mass, 16-inch front wheel and tillerlike handlebars help yield remarkably light, quick steering, making the Voyager one of the most agile touring bikes at slow speeds..."
"Many of those traits characterize the Voyager's twisty road behavior as well. The bike feels nimble, with slot-car steering response that gets it in and out of corners quickly. Such assets help rank Kawasaki's Voyager - again - near the top among touring bikes for back road handling..."
While Kawasaki has not published the number of Voyager XII's produced, it is estimated the "average" production was abut 2,500 per year. That would suggest total production over 17 model years would be 35,000 - 45,000 bikes. 1991 was a boom year for motorcycle sales in general, and sales were up for the Voyager as well. 1991 saw the highest number produced in the history of the model. 2000 saw the fewest produced, (because of the ugly gray color??) followed by the 2003. In 2003 only 700 were made.
By 2003 the design of Voyager XII was definitely dated, sales were waning, tooling was wearing out, and the XII no longer met EPA emission requirements. The XII had run its course and production ended. It wasn't until 2009 that the next Voyager appeared.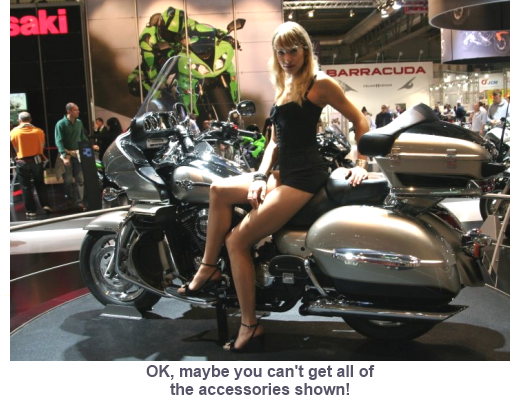 In 2003 Kawasaki asked the American Voyager Association to do a survey on what we would like on a new Touring bike. After two weeks and 750 responses Kawasaki flew Duane Ash, then AVA Chairman, to Kawasaki Headquarters in Santa Ana, California. where they discussed all items from most mentioned to least. In the intervening years, Kawasaki experimented producing prototypes including a Voyager based on the Concours 1400 fuel injected inline-4 engine. However, the best Kawasaki could get out of the 1400 engine with the weight of the Voyager touring frame and accessories and still meet EPA emission requirements was about 30 MPG, so the project was scratched. Kawasaki turned to the Vulcan V-Twin line and the Vulcan Voyager 1700 (VN1700) was born - a modern, high-tech, high class, touring motorcycle in every sense of the word.
The Voyager 1700 is the world's first Japanese V-Twin touring bike and reportedly produces 73 hp at 5,000 rpm, though Motor Cyclist Magazine's dyno tests showed 65.9 hp at 5000 rpm. The big 1700 CC V-Twin engine is liquid cooled, fuel injected, and has a 6-speed transmission. Sophisticated ABS braking is available and since 2012 comes with the Kawasaki Air Management System (KAMS) to redirect engine heat (a problem with all large V-Twin engines) away from the rider and passenger. Almost every imaginable creature comfort and accessory comes standard on the bike, except perhaps as noted in the photo!
The Voyager 1700 is the current Voyager presently in production.